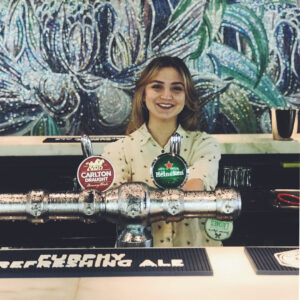 Meet Jessica Burke
Jessica Burke started with AVC in 2016 as a Food & Beverage Attendant at College Lawn on a Working Holiday Visa. Her Venue Manager (Mark Sorensen) saw her talent and passion for hospitality and promoted her into a position as AVM with the support of the AVC sponsorship program. Jess has worked across a number of venues in Melbourne, starting at College Lawn moving to The Duke, and now VM at The Vincent preparing for the re-opening.

Meet Kanjana Panyavisetpong (Sponsored Employee)
Kanjana relocated to Kings Beach Tavern from Crafty Squire during Covid. Received a promotion from Commi Chef to Junior Sous Chef (Qualified Level 4 QVC). Kanjana started as a casual level 4 commi chef back at the end of 2016.
' I am appreciated to being this company, and I met the best head chef ( Nicholas Hollands ). I know it has been difficult for everyone, but AVC shows that they taking care very well for all staff. Especially, my sponsorship visa which is AVC supported $550 per a week, and staff meals delivered to my door every week. It was amazing. I have relocated because of my visa conditions, but AVC supported me very well to be here at Kings Beach Tavern. I can't thank you enough for all of that.'

Meet Kylie Mienert
Kylie has worked at The Brighton Hotel for 7 years in capacity of a Duty Manager. About 3 months ago her Venue Manager suddenly fell ill, which resulted in Kylie having to step up overnight into an Acting Venue Manager role. Within the first 2 weeks of her acting up role she had to learn everything from invoicing, VRS, humanforce, Page up, and every system in between in addition to navigating QLD's newly enforced Covid-19 restrictions. Kylie has demonstrated great resilience and despite the challenges has maintained a positive outlook. Kylie has recently been promoted to Assistant Venue Manager and will be continuing to hold the venue until early November when we instate a new Venue Manager.