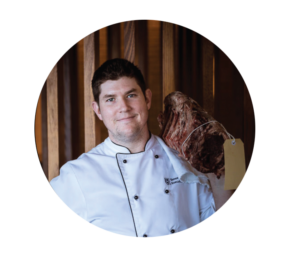 History in the making
For over 145 years, The Regatta Hotel, in Brisbane, has witnessed some of Australia's most memorable moments in time.
Home to legendary sporting achievements and one of the first feminist insurgencies, our Grand Lady of the Brisbane River has withstood flood, fire and more than a century of change.
Now, in 2020, The Regatta has closed its doors to the public, due to the COVID-19 pandemic, another story for the ages.
We caught up with Executive Chef, Simon Street to find out what he's been up to during this forced shutdown period.
Hey Simon!
Let's catch everyone up, how long have you worked at The Regatta?
I have worked at the Regatta for just over 3 years now
What's your favourite memory over this time? 
One of my favourite memories would have to be the Barbecue Fest weekend in September 2019 – this was really my dream come to reality. We did a 3-day event cooking a menu for all our customers completely over wood and charcoal in our carpark in what I liked the call the "live fire precinct". We also showcased a jam-packed itinerary of masterclasses, cooking tips, information sessions and meet and greets and it was an absolute blast. It finished on the Sunday with an American Barbecue cooking competition where we competed against some great barbecue teams in Australia, we placed 3rd and it was the icing on the cake for me!
What have you missed most since the venue closed to the public?
The high volume fast paced nature of the business with my team and our customers
You've been busy prepping and cooking for the new take home offering, can you tell us about the concept?
I saw an opportunity to assist people during the isolation and covid-19 crisis, I thought that ready to cook and simple easy dinners and meals were the key to helping people through this time. We developed a menu including meat packs and ready to cook pies and lasagnes – all prepared fresh in house so the hard work is done and to give them a bit of Regatta quality steak in their homes. We finished that off with individual recipe cards on how to cook steak, lasagne and pies so hopefully some people learnt a thing or 2 with that!
Have you rediscovered any other hobbies or talents during this time?
I've definitely been able to slow down a bit and concentrate on the challenge ahead coming out of this crisis – it's my next obsession. Its really been a reset for me in total – I've spent more time with my family, been able to go for runs and of course have a wedge here and there (drink a beer).
You ran a virtual cooking class last week for our team via Zoom, how did you find cooking for a virtual audience?
I loved it, I really enjoy sharing my passion for food and showcasing things to people that hopefully they can enjoy and learn from. In that particular class it was a nostalgic journey for me going back to the roots of my cookery when I was a teenager. I thought not everyone would have seen pastries like that before, so I wanted to share my recipe with everyone – here it is.
Thanks Simon, #cheerstothenext100years! 
RECIPE
Required tools
Wooden rolling pin
2 x strainers
2 x bowl to fit under strainers
Knives
Cutting board
Fork
Scales
Measuring cup/jug
For the Dough
Plain flour – 1.2kg
Eggs -2
Water – 350ml
Yeast – 10grm
Sugar – 30grm
Salt – 10grm
Olive oil – ¾ Cup
Lahm Bi Ajeen
Lamb mince – 400grm
Tomatoes – 6 large chopped
Brown onion – 2 large – chopped
Basil – ½ bunch
Mint – ½ bunch
Allspice – 3 tbl spoons
Nutmeg – 1 tbl spoon
Chilli flakes – good pinch
Pomegranate Mollases – a dash (substitute with lemon juice and honey if required)
Salt and pepper – for seasoning
Method
Mix all ingredients together and leave in a strainer.
Fatayer
For the Filling
Baby spinach – 4 cups washed and drained
Walnuts lightly toasted – 1 cup roughly chopped
Onions – 1 diced
Lemon juice – 2 lemons juiced
Olive oil – 2 tbl spoons
Sumac – 1 tbl spoon
Zaatar – 1 teaspoon
Chilli flakes – 1 pinch
Salt – 6grm
Pepper – a pinch
Chop the spinach and add all ingredients to a bowl, mix well and allow to sit for 10 minutes to soften.